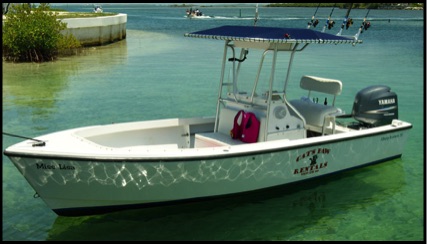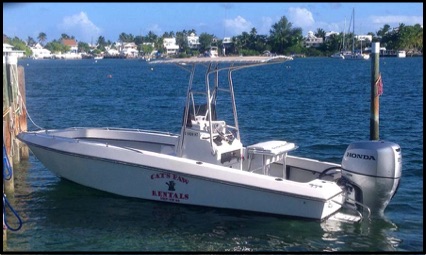 All the boats in our fleet are clean, dependable, professionally maintained and easy to handle.
Each of our two 21' Paramounts are equipped with t-tops and new 150hp 4-stroke Honda engines.
Our 20' Cobia has a full bimini top with a 175hp Mercury engine.
Our three 20' Albury Brother Boats are equipped with either a 150hp 4 Stroke Yamaha engine , a 150hp Evinrude E-Tec engine or a 135hp Mercury engine.
Each boat has been inspected and is licensed for up to SIX (6) passengers. All boats are equipped with VHF radio, life jackets, flares, first aid kits and a fire extingisher. A small cooler can be provided at no charge.
Check-out includes a complete briefing on the boats, operation, safety, overnight docking, refueling and navigating the surrounding waters.
Each renter is provided a chart with local rules, boating regulations, anchoring instructions and area dive sites, etc.
You can feel confident when you leave Cats Paw you will have the knowledge to safely navigate the beautiful gin clear waters of Abaco.
Rental Rates
3 Day Minimum
Daily Rates: 3-6 days
Weekly - 7-day Rentals:
Additional Days:
$190.00 per day
$1225.00
$175.00 per day
Daily Rates 3-6 days:
Weekly - 7-day Rentals:
Additional Days:
$225.00
$1440.00
$200.00 per day



Copyright 2022 Cats Paw Boat Rentals. All rights reserved.
Webdesign and maintenance Cocomotion Island Art


Paramount and Cobia Rental Rates:
Albury Brother Boat Rental Rates: